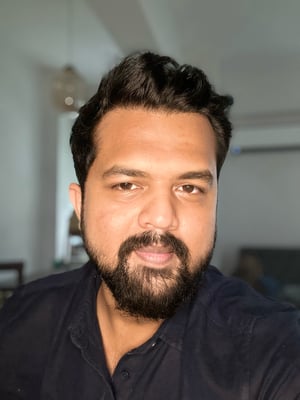 TACK CREW
Soumyajit (Jit) Chakladar
Go-to-Market Superpower:
Creative Systems for GTM Teams
Work History
Current: Head of Brand and Creative at AirmeetWith over a decade of experience, Jit leads Brand and Creative at Airmeet.
He collaborates across departments for creative contributions to the customer journey and is actively integrating AI into product workflows.

At M&C Saatchi, he was part of teams managing high-profile campaigns, notably Amazon's multilingual Festive Campaigns and Gaana's successful relaunch, achieving 2 million+ views and record app downloads.

Earlier, at Liganova, he significantly contributed to Adidas 2014 World Cup Global Campaign, which rolled out in 350+ stores.
Jit has also engaged with leading non-profits and academia, focusing on data visualization and brand design.
Expertise
Jit specializes in building systems at the team, department, and company levels, grounded in a people-first philosophy. He establishes creative workflows to streamline tasks, reduce delays, and minimize errors. These systems provide customizable templates and guidelines, allowing work to be allocated based on complexity and required turnaround time.
This approach empowers individuals to self-serve and create their own work, reducing dependency on designers. Doing so, not only streamlines operations but also allows the creative team to focus more on original thinking when needed, ultimately contributing to the success of each team member.